Foods Etc.
Recipes
https://foodsetc.iga.com/Recipes/Detail/4087/Stir_Fried_Zucchini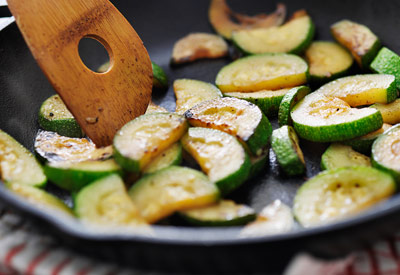 Stir Fried Zucchini
Yield: 8 servings
Preparation Time: and Total Time: 15 min
Ingredients
2
pounds

zucchini, cut in half lengthwise and sliced horizontally into 1/4- inch thick pieces

2
cloves

garlic, minced

1/4
cup

olive oil

1/2
teaspoon

Italian seasoning

1/4
teaspoon

salt

1/4
teaspoon

freshly ground black pepper
Directions:
In a large skillet, saute the zucchini in oil for about 4 minutes. Add the garlic and continue to saute for 1 minute longer.

Sprinkle with Italian seasoning, salt and pepper and and serve at once.

Please note that some ingredients and brands may not be available in every store.
Foods Etc.
Recipes
https://foodsetc.iga.com/Recipes/Detail/4087/Stir_Fried_Zucchini