Foods Etc.
Recipes
https://foodsetc.iga.com/Recipes/Detail/7272/Alaska_Crab_Pho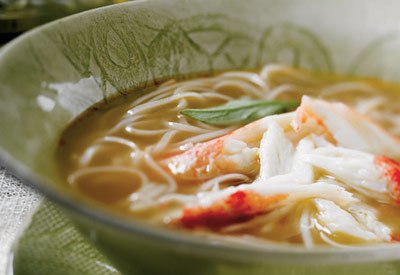 Alaska Crab Pho
Yield: 4 servings
Preparation Time: 10 min; Cook Time: 20 min
Ingredients
1
quart

(32 oz) chicken or vegetable broth

1
cup

sliced white onion

1 1/2
teaspoons

fish sauce

1/2 to
1 teaspoon

chili oil

1
piece

(1- inch) fresh ginger, peeled and sliced

1/4
teaspoon

chili flakes

1/4
teaspoon

ground coriander

1/8
teaspoon

ground cloves

2
pounds

Alaska Crab legs/clusters (King, Snow or Dungeness) thawed or frozen

2
cups

(about 8 ounces) fully cooked rice noodles

1/2 to
1 cup

enoki mushrooms

1/2 to
1 cup

mung bean sprouts

1/4 to
1/2 cup

fresh Thai basil leaves

1/4 to
1/2 cup

fresh cilantro leaves

4

lime wedges
Directions:
In a large (12- inch) nonstick pan or stockpot, heat broth, onion, fish sauce, chili oil, ginger, chili flakes, coriander and cloves over high heat until simmering. Cook 5 minutes or until onion is soft.

Rinse frozen Alaska Crab legs/clusters under cold running water to remove any ice glaze; pat dry with paper towels. Discard towels. Cut crab clusters or legs into smaller sections with a large knife and shell (discard shell.)

Turn off heat and gently add crab to liquid. Return heat to a simmer.

Once simmering, cover pan and cook 4 to 5 minutes for frozen seafood or 2 minutes for fresh/thawed crab.

To serve:
Place 1/2 cup noodles and a seafood portion in a soup bowl. Ladle on 1 cup broth. Garnish with mushrooms, sprouts, basil leaves, cilantro and lime wedge.
Recipes and Images provided by Alaska Seafood
Please note that some ingredients and brands may not be available in every store.
Foods Etc.
Recipes
https://foodsetc.iga.com/Recipes/Detail/7272/Alaska_Crab_Pho